Robert Herrick
Biographical Information
---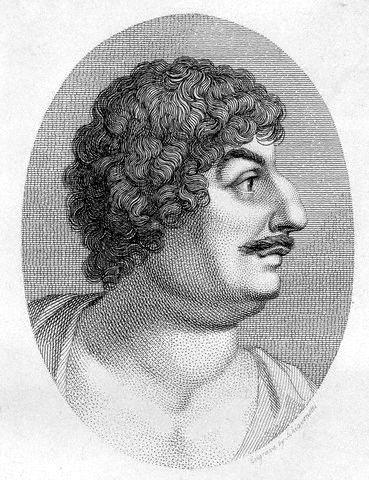 Robert Herrick (1591-1674) was born in Cheapside, London. His father and grandfather were both goldsmiths and as a teenager he was an apprentice to his uncle, who was also a goldsmith and jeweler. Herrick's maternal grandfather was a tailor who young Herrick had much exposure to in his formative years. We may assume that such exposure to goldsmiths and tailoring had a profound impact on Herrick and may well have influenced his later poetical fascinations with clothing and jewels.
Herrick was a member of the "Sons of Ben", that faction of 17th century poets who adored Ben Jonson's work. Herrick took orders in 1623, six years after his contemporary John Donne had done the same, and was appointed in 1630 to the living of Dean Prior outside of London. We assume that he wrote the majority of the poems in Hesperides while he lived in rural Devonshire, performing his clerical duties.
Literary Works
---
"The Argument of His Book": The title for Herrick's first poem in Hesperides does not refer to a quarrel, but rather suggests a number of the author's favorite topics, which will be treated by following poems. "Herrick so arranges his catalogue that it emerges as a classification of all the general areas of human experience covered by his book" (Rollin 8).
The subject matter also gives us to infer Herrick's poetic sentiments. For, "in addition to alerting us about things to look for as we read on in Hesperides, this information is useful because it suggests…that, as one who 'sings' about idyullic nature, Herrick is related to an ancient and honorable line of… 'pastoral' or 'bucolic' poets" (Rollin 19).
"His Farewell to Sack & The Welcome to Sack": In this pair of poems, separated by 68 others in Hesperides, Herrick comically presents his burgeoning affection for white wine in ridiculous terms. He employs a plethora of analogies, ranging from converging streams to falling comets to Kings and Queens drawn together, to describe the sound nature of his sentimentality.
"Kings and Queens are human beings, but they and their offspring can change the world. Hence, their love is not only enhanced by the dignity of their persons but by its potentially historic significance. That Herrick's passion for sack is similarly momentous effectively brings the poem to the verge of the comedy of the absurd" (Rollin 52).
"His Farewell to Sack": The intent of this poem is to "break-up" with the beverage. Line 42 states plainly that "nature" beckons Herrick away from the drink, a very pastoral reasoning, which may have presented itself when he became a minister. Given the 50+ poems between "His Farewell to Sack" and the "The Welcome to Sack", we might reasonably assume that Herrick stuck to his convictions for some time as well.
"Corinna's Going":Here, Herrick invites the reader into his magical pastoral world. The natural world takes on a holy aspect as he beckons her towards a May celebration. In the final stanza he introduces carpe diem concepts, which also appear in a related poem, "The Changes to Corinna".
Sources
---
1. Image: http://www.everywritersresource.com/poemeveryday/category/1500s/
2, Encyclopedia of World Biography. "Robert Herrick Biography." Biography of Robert Herrick. The Gale Group Inc., 2010. Web. 17 March. 2011 http://biography.yourdictionary.com/roberty-herrick.
3. Rollin, Roger B. Robert Herrick. New York: Twayne, 1992. Print.
4. Poems from: Luminarium.org. <http://www.luminarium.org/sevenlit/herrick/herribib.htm>.
---
page revision: 15, last edited:
01 May 2011 15:26