Ben Jonson
Biographical Information
---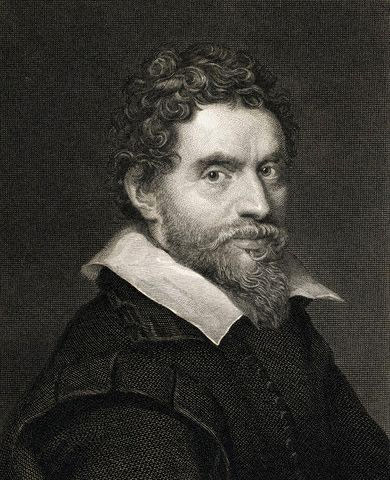 Benjamin Jonson (1572-1637) was the son of a clergyman who experimented with several trades throughout his life, including taking on his step-father's bricklaying trade, joining the army, and writing for theatre. He was well-known for his satirical plays, and sometimes considered one of the greatest writers of the time next to Shakespeare.
Jonson wrote a vast amount of poetry, most of it in response to the man's own life experiences, addressing people he knows, though not always presenting himself as the speaker. Most of his poetry consists of short lyric forms, but he is also known for his unadorned yet exceedingly effective epigrams. He excelled at the use of heroic couplet and aimed his praises at specific individuals and "types" of people. Jonson was dependent on the values of the landed aristocracy because that is where he received his patronage. Thus, it is unsurprising that he pioneered the country house genre, which praised landowners and their property.
Jonson was the first poet to consider himself an "author", rather than a hired composer. Whereas most poets of his day wrote solely for court favor and patronage, Jonson, in addition to these, took ownership of his plays and poetry. His publication of his plays in Works (1616) was the first large, fancily formatted book to feature dramatic plays. Beforehand, drama was seen as Plebian and commonplace. Jonson was responsible for making the publication of plays commonplace, perhaps to the extent that without his Works, Shakespeare's first Folio (1623) may never have been published itself.
"Jonson…works largely from values to experience, for his a priori belief in certain ethical tenets governs his selection, analysis and expression of material. This is strength, in the consistency, weight and conviction it lends to his poetry, but also potential weakness in that it can lead to inflexibility and one-sidedness." - G.A.E. Parfitt
Literary Works
---
"To The Reader": is a paraphrased couplet from one of Jonson's earlier works, The Alchemist.
"To My Book": Introduces his book Epigrams, indicating that others may look down upon the work when they know it is written by him. It takes on the 14 line sonnet form, but breaks from the norm by a rhyming series of couplets instead of abab or abba.
"To King James": Praises James I for his literary accomplishments.
"To All, To Whom I Write": Takes a modest tone, cautioning readers to not expect much of Jonson as a man of "rank" or "title".
"On Something That Walks Somewhere": Jonson uses a defamilarization technique, giving the "lord" only vague human features. The lord says to expect no good nor ill from him, for he will give none.
"To My Mere English Censure": is a direct response to criticism regarding the quality of Jonson's works. He takes great pride in the difference between his epigrams and those of past poets, and he asks the critic to keep an open mind.
"On My First Daughter": is an epigram addressing Jonson's deceased six-month-old daughter. Notice that XXII is filled with gentle, heavenly imagery compared to XLV, where the death of his seven-year-old son from the plague is wrought with images of anger and loss?
"On Spies": is directed to two plants in his midst to get information while Jonson was being held in prison.
"To Pertinax Cob": is a couplet rife with sexual innuendo. The sexual nature is obvious but is explained in an innocent manner.
"To Lucy Countess of Bedford": is addressed to a common patron of Jonson and Donne's. He attempts to construct the idealized woman, but ends up realizing Lucy is his inspiration.
"To Elizabeth, Countess of Rutland": is addressed to Sir Philip Sidney's daughter.
"To Lucy, Countess of Bedford with Mr. Donne's Satires": is addressed to his and Donne's mutual patron.
"To John Donne": like the title implies, is addressed to his contemporary, asking him to read his epigrams. He writes that if he may have one small praise from Donne, he would ignore all praise from lesser people.
"Inviting a Friend to Supper": starts with several forced rhymes, slightly out of tune with Jonson's usual epigrams. However, it quickly falls into Jonson's style, using wit to deprecate himself, admire the guest, and assure the guest that they will be able to speak freely.
"To Penshurst": One of the first Country House poems, "To Penshurst" was written about the Sidney estate at Penshurst Place in Kent, which was then owned by Sir Philip Sidney's younger brother Robert. The poem lauds the bounty of provision at the Sidney home, adding pastoral motifs along the way. Everything at Penshurst works in ecclesiastical harmony with nature: "The painted partridge lies in ev'ry field/ And for thy mess is willing to be kill'd" (29-30). As with all country house poems, Jonson relates the goodness of Penshurst Place with the goodness of its residents. The poem praises the Sidney family as the paragon of the good life, of whom know one wishes ill: "There's none, that dwell about them, wish them down/But all come in, the farmer and the clown" (47-48). Jonson praises the Sidney family because, by opening their home to even "the farmer and the clown" (48), they show everyone what the "good life" means.
Suggested Further Reading
---
Cave, Richard Allen. Ben Jonson. New York: St. Martin's Press, 1991.
Kay, W. David. Ben Jonson: A Literary Life. New York: St. Martin's Press, 1995.
Sources
---
1. Luminarium. "Ben Jonson." Encyclopedia of World Biography. (http://www.notablebiographies.com/Jo-Ki/Jonson-Ben.html).
2. Image: http://famouspoetsandpoems.com/pictures/ben_jonson.jpg
3. Poems from: Luminarium.org. <http://www.luminarium.org/sevenlit/jonson/benbib.htm>.
---
page revision: 28, last edited:
01 May 2011 17:19